Speaker
Book Malaika Oringo For Your Next Speaking Event. Keynote speaker: sex trafficking /labour trafficking survivor Advocate, trainer mentor, consultant. Travel from; The Netherlands. Category social issues, social justice, empowerment anti-human trafficking legislation/ gender-based violence, climate change annex with human trafficking. Videos, engagements.
Do you have an anti-human trafficking event, a seminar, a conference, or a workshop? Do you have survivors that need to be inspired to reclaim their stolen dream, and you want to invite me to motivate them? Don't hesitate to get in touch with me through the booking form below.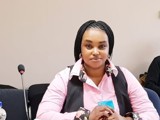 Message
She leads survivor-led efforts to combat human trafficking in the Netherlands and East Africa. She has spoken on various African and European stages, like Paris, Geneva, Athens, London, Belgium, and Luxembourg. She believes that the only way to eradicate human trafficking is by giving survivors of human trafficking a voice and the opportunity to lead. She is an educator, trainer, mentor, speaker, and advocate for victims' rights, and she offers more than 15 years of experience in her journey to becoming a survivor leader. Her expertise affirms that survivors are the most relevant stakeholders in the fight against human trafficking.
Fauzia
I'm a survivor advocate for those affected by human trafficking. I'm also a survivor of human trafficking. As a human trafficked survivor, I have been Mentoring, empowering, and advocating for Migrant workers, informal workers, and champions for GBV survivors, achieving what most community thoughts were impossible. Fauziah is a community organizer in Kenya, her ability is to work closely with the community and organizational at all level has significant opportunities, while working through changes affecting the community and demonstrating sincere interest in solving community problems.
Wasswa Ashraf
I am  Wasswa Ashraf from Uganda, working with Footprint to Freedom as a volunteer, a public speaker, advocator, outreach coordinator, and a survivor who would love to use his story to break the cycle of human trafficking; I did a Bachelor's degree in Social Work and Social Administration, working with Footprint to Freedom has been the best God-given call I have been blessed with and it has introduced me to the real world of social problem solving. It has also given me the opportunity to fight and speak about climate change through the CLIMATE CHANGE CAMPAIGN here in Uganda. 
Book A Speake

r 

 

Fill in the in formation below and we will contact you as soon as possible.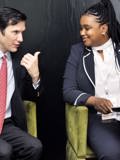 Partners
From Footprint to Freedom